Festival Estéreo Picnic 2019: las bandas y artistas que la gente espera en el cartel
21 de noviembre es la fecha elegida por Páramo Presenta para dar a conocer el line up oficial del Estéreo Picnic 2019. ¿Qué nombres harán parte de la celebración de los 10 años del festival? Estos son algunos de los que el público espera.
Expectativa, emoción, sorpresa, incógnita. Esta semana los organizadores de este evento que ha sido para muchos el escenario para ver a sus artistas favoritos, anunciará a las bandas invitadas a la edición 2019.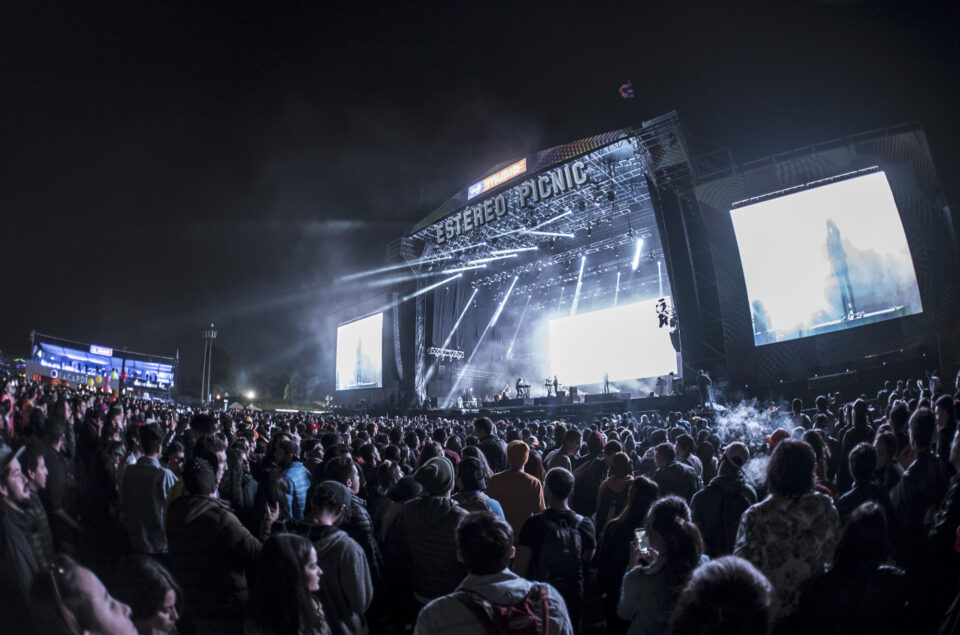 Algunas semanas atrás, un falso afiche rondó las redes, aumentando la atención por el cartel oficial. Se ha hablado de nombres como Dua Lipa, Jack White, Panic! At The Disco, Bring Me The Horizon, St. Vincent e incluso se pensó que el recién confirmado en Colombia, Lenny Kravitz, haría parte de la programación. Un evento en Facebook que anuncia también el regreso de Arctic Monkeys al país señala que su actuación será en FEP2019. Esperaremos al 22/11.
Ante esa misma curiosidad, lanzamos la pregunta en nuestras redes sociales: ¿Qué bandas quieres ver en Estéreo Picnic 2019? El amplio número de comentarios no solo ratifica la diversidad musical y de gustos que existe entre las personas, sino también la exploración o tendencias, el interés por lo local y el tipo de nombres que se adecuan a un festival de este tipo.
Vamos a ver cuántos le pegan una vez se anuncie el cartel oficial de Estéreo Picnic 2019 este próximo miércoles.
Más de 430 nombres, algunos que ya han venido y nuevo talento colombiano. Estos son los nombres que la gente quisiera ver en este Estéreo Picnic:
Cake, Die Antwoord, Clairo, Los Martes, William Barz, Prodigy, Fall Out Boy, Pearl Jam, Foo Fighters, The Chemical Brothers, Charly García, The Hives, Pastor López, Sticky Fingers, Greta Van Fleet, Daft Punk, Ponderers, Hermanos Menores, Las Luces Primeras, Arrabalero, Aguas Ardientes, N Hardem, Crudo Means Raw, Granuja, Twenty One Pilots, Urdaneta, The Strokes, Arctic Monkeys, HONNE, Thievery Corporation, Darío Gómez, The Vaccines, Wolf Alice, Blink 182, Bastille, Royal Blood, 311, Kaleo, Coheed and Cambria, Laura Klinkert, Imagine Dragons, Violent Soho, The Smith Street Band, Los Espíritus, El Kuelgue, Morrissey, Massive Attack, Garbage, Nine Inch Nails, Marylin Manson, Residente, Deadmaus5, Dimitri Vegas, Cuan Music System, Fat Boy Slim, Tash Sultana, Simple Plan, Julián Esteban, Red Hot Chili Peppers, Nicola Cruz, Alanis Morissette, Metallica, Two Door Cinema Club, Cage The Elephant, Prophets of Rage, The Asteroids Galaxy, Soviet Soviet, Lebanon Hannover, Cut Copy, Grizzly Bear, St. Vincent, Interpol, Montaña, Gorillaz, Mumford & Sons, Franz Ferdinand, Nicolas Jaar, Kendrick Lamar, Travis Scott, Yeah Yeah Yeahs, Estados Alterados, John Mayer, Los Fumadores, Eminem, Vampire Weekend, Tropkillaz, Muse, Beirut, Weezer, Neon Trees, Moby, MGMT, Oasis, Cuarteto de Nos, Calvin Harris, The Offspring, Snow Patrol, No Doubt, FUN, The Cure, Hot Chip, Savages, Alice In Chains, Laguna Pai, Candy 66, Kool and The Gang, Anderson .Paak, Justice, Robert Glasper, Hyatus Cayote, Fat Freddys Drop, Beck, Portugal The Man, Radiohead, Keane, Incubus, Billie Eilish, Green Day, Bring Me The Horizon, Lana del Rey, Lorde, LosPetitFellas, Lika Nova, Dua Lipa, Kali Ushis, Albert Hammond, The Black Keys, Def Leppard, Tame Impala, Fangoria, Los Punsetes, Chico y Chica, Hidrogenesse, El Columpio Asesino, Jamiroquai, No Te Va Gustar, Pixies, Caifanes, Caravanchela, HMLTD, Libia Ricardo, Young The Giant, Vinileros del Trópico, Slayer, Tool, Smashing Pumpinks, Underworld, Los Cafres, Los Pericos, Bomba Estéreo, The Beat Trobbers, Buscabulla, Los Bunkers, Alt-J, D-Ambulantes, Marduk, Biffy Clyro, Alzate, NOFX, Sum 41, The Descendents, Rancid, One Ok Rock, General Bong, Portishead, Wolfmother, Rikarena, Tres y yo, Los Cocoa, Queens Of The Stone Age, Mateo Plex, Boris Brejcha, Carl Cox, Dereck Musik, FOZZ, Jungle, Lianne La Havas, Jorge Drexler, The Breeders, Car Seat Headrest, The Bloody Beetroots, The Fratellis, Indio, Eagles of Death Metal, Rival Sons, Vintage Trouble, Eruca Sativa, Lachard, The Sky, Mogwaii, SOAD, Ed Sheeran, Modest Mouse, AC/DC, Duran Duran, Depeche Mode, Face to Face, New Order, Bad Religion, Señor Loop, Starcrawler, Brockhampton, La Dieta del Lagarto, Yellow Claw, La Funk Organisation, Not Berlin, The Killers, León Bruno, Árbol de Ojos, The Jaars, Del Absurdo, Tequendama, Pornomotora, Colectro, Chimó Piscodélico, La Derecha, The Criollos, Los Makenzy, Cielito Drive, Ultrágeno, Carajo, Vetusta Morla, Indio Solari, Fito Páez, Divididos, Enrique Bunbury, Superlitio, Cinemacinco, Systema Solar, El Otro Grupo, Emje Rose, La Mambanegra, Rosalía, Ghostemane, Piel Camaleón, Highly Suspect, Dead Sara, The Temperance Movement, The Kooks, Vba Positiva Band, Manic Streets Preachers, Rabanes, Yooko, Los Huérfanos, Boca de Serpiente, Balún, Los Master Plus, Consulado Popular, XinniX, Superorganism, Malawi, Nick Morphy, Porter Robinson, Pvris, Post Malone, Jimmy Eat World, Dashboard Confessional, Biffy Clayro, Chevelle, Placebo, The Drums, Temples, Sky Ferreira, Los De Adentro, Agatha, 4 Cabezas, Kraftwerk, The Neightbourhood, Jaymes Young, Years & Years, Cigarettes After Sex, Billie Eilish, The Irrepressibles, Blackbear, Father John Misty, King Lizzard, Los Eddies, The Blinders, Kings Of Leon, Oh'laville, Izal, Las Hermanas, Arcade Fire, Kongos, Fantastic Negrito, Stereophonics, Modjo, Nikka Costa, Selah Sue, Bemhoft, Bersuit, Kt Tunstall, Lenny Kravitz, Jack Johnson, Ray LaMontagne, Earth, Wind & Fire, Kike Neira, James Bay, Marlango, Lilly Allen, PJ Harvey, Disclosure, Andra Day, Angus and Julia Stone, Zas, El Punto Ska, CTE, TLSP, Parquet Courts, Erik Prydz, Coldplay, La Doble A, Militantex, Teatro Unión, Atrato, Los Niños Telepáticos, King Gizzard & The Lizard Wizard, Little Comets, Last Dinosaurs, Django Django, Beach House, Beach Fossils, Gui Boratto, Starcrawler, Salsa n' groove, Ghetto Kumbé, Exploited, Aurora, The Spotglow, OG, Misfits, Vintage Trouble, Lachard, Los Pedros y el Llanero Bolchevique, Psicoactivo Psa, The Whitest Boy Alive, Future Islands, !!!, Polo & Pan, Crystal Fighters.
¿Alguna de la lista entre sus favoritas?
El Festival Estéreo Picnic se realizará el 5, 6 y 7 de abril de 2019. Las boletas ya se encuentran disponibles en la segunda etapa de Creyentes por un valor de $515.000 + $74.000 del servicio.
Lee también:
> Así funcionan las alcancías de Estéreo Picnic 2019
> Brandon Flowers, de The Killers, y Lana del Rey le declararon su amor a Colombia en FEP 2018